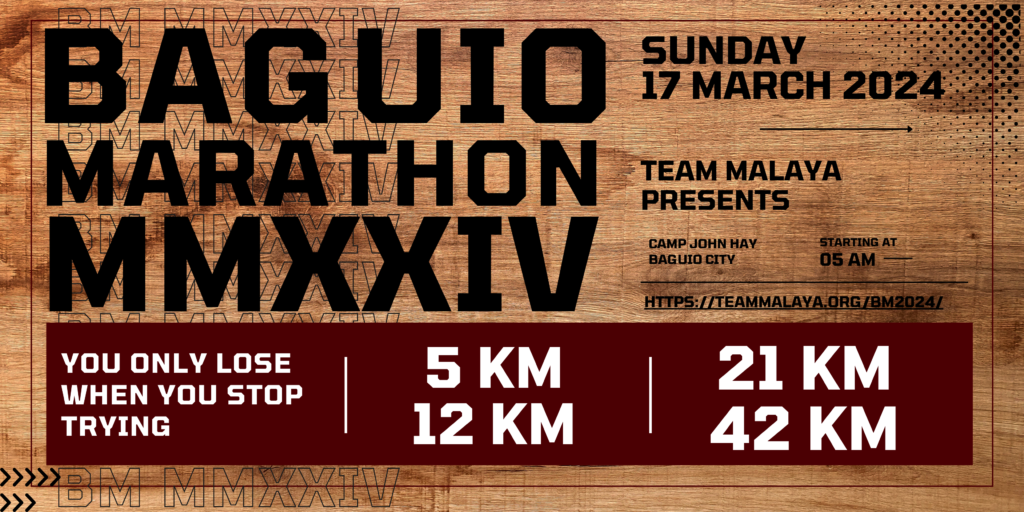 BAGUIO MARATHON 2024
CAMP JOHN HAY, BAGUIO CITY
MARCH 17, 2024 , SUNDAY
Camp John Hay,
Baguio City,
Philippines
100% Road Run
EARLY REG - November 21, 2023
REGULAR REG - November 22 - January 20, 2024
LATE REG - January 21 - February 29 2024
Due to its high altitude and cool climate Baguio City has been the summer capital of the Philippines. Overtime, Baguio had also become a center of arts, culture, food and sports, too. Baguio City is home of top running athletes here in the Philippines.
Route Description :
The path will traverse Loakan Road, winding through dense pine forests, leading to PMA with panoramic views of Pulag and Ugo Mountains, and eventually arriving at Ampucao near the renowned Mt. Ulap.
Temperature:
Baguio is the chilliest city in the country, typically experiencing temperatures that range from 17 to the single digits.
|𝟱𝗞𝗠| CJH - Loakan Vice Versa
(750 Php Early reg)
(850 Php Regular reg)
(950 Php Late reg)
• Event fullsub singlet, Race bib, Snacks, Timing chip & Raffle
|𝟭𝟮𝗞𝗠| CJH - Loakan Vice Versa.
(1150 Php Early reg)
(1250 Php Regular reg)
(1350Php Late reg)
• Event fullsub singlet, Race bib, Snacks, Timing chip, Finisher medal & Raffle
|𝟮𝟭𝗞𝗠| CJH - Loakan - Kennon Vice Versa
(1650 Php Early reg)
(1750 Php Regular reg)
(1850 Php Late reg)
Event fullsub singlet, Race bib, Snacks, Timing chip, Finisher medal, Finisher tees & Raffle
|𝟰𝟮𝗞𝗠| CJH - Loakan - Kennon Vice Versa
(1950 Php Early reg)
(2250 Php Regular reg)
(2550 Php Late reg)
Event fullsub singlet, Race bib, Timing chip, Finisher medal, Finisher tees &
Raffle
 Top 3 Male and Female
 BIGGEST DELEGATION AWARD 
 OLDEST RUNNER
 YOUNGEST RUNNER
---
PAYMENT DETAILS
Account Name: STEPHEN F.
GCASH NO. 09665870757

PLEASE ACCOMPLISH THE FORM BELOW TO REGISTER